The best Museum experience. View as a webpage.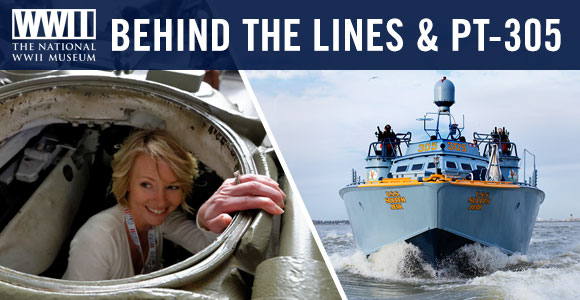 Behind the Lines
Enjoy the most exclusive Museum experience: seeing and handling artifacts, climbing inside a Sherman tank, and spending face time with our knowledgeable curators. A second-day ticket is included, allowing tour members to explore every facet of the Museum's public space at their leisure.
These tours are only offered on Fridays and Saturdays and are limited to just 10 guests. Book now to reserve your spot!

PT-305
Climb aboard the world's only fully restored operational combat-veteran PT boat for the ride of a lifetime! Experience history like never before aboard PT-305, back in the same waters where she was tested more than 70 years ago.
Rides are only offered on Saturdays. If you require transportation to PT-305, shuttle service is available from The National WWII Museum's campus to Lakeshore Landing for $29 per person round-trip. The shuttle will depart from the Museum 45 minutes prior to your scheduled ride aboard PT-305. Lakeshore Landing is an approximate 30-minute ride from the Museum.

Provided by PT-305 Excursions LLC

Purchase these two incredible experiences together and get a free round-trip shuttle ride to PT-305's boathouse! Call 504-528-1944 x 257 for more information.